Rachelle Reese and John E. Miller met at a wedding. For John, it was love at first sight. Rachelle barely even noticed him. Nine months later, Rachelle showed up at a baby shower with a bottle of champagne and invited John to share it with her. They were an unlikely couple — John was a country boy from the Missouri, who had recently taken a job at Sun Microsystems. Rachelle was a student and performance poet who wore five earrings in one ear and two in the other. That was in 1988. But you just never know when magic will happen and that day it did. They have spent the rest of their lives together pursuing their dreams, and telling stories in one way or another.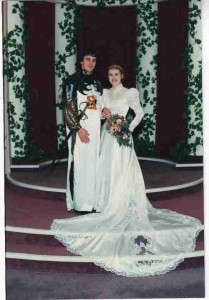 Both have a passion for living in other time periods. Rachelle was a drama enthusiast in high school and loved going to the Renaissance Faire with her friends to spend a day in the past. John started playing Dungeons and Dragons when it first came out. Rachelle had tried it once in high school, but didn't live long because she played a 1st level wizard. John convinced her to try it again and she loved it. It fit right in with the way she had been thinking about stories — as multilinear tales woven together. She had started working on a thesis in hyperfiction — the first ever at San Jose State University, where she was studying for her Masters in English with a writing concentration.
They decided to get married in 1991 at the Excalibur hotel. The wedding was a small medieval affair and the next day, as they were taking pictures, John sporting his very real helm and dragon-wing gorget, a young boy asked John, "Are you a real knight?" John said, "Of course I am." And he was telling the truth. John believes in saving people and animals — not in the "come to Jesus" sense, but in the sense of really giving a damn and caring about their hopes and dreams.
In 1995, they moved to St. Louis and Rachelle started her career writing courses to train programmers and network engineers. A few years later, they pursued one of John's dreams of opening a game shop in the small town where John grew up. It was a place kids and adults could come together and create stories. They spent many afternoons and evenings chucking the dice and battling demons. In 2000, they moved out in the country to be closer to the shop.
Rachelle had published a few short stories in college and won a couple of awards at her university. But then she stopped writing — the business of life kept her from her fictional worlds, except when she sat at the gaming table. She missed her fictional worlds and John had so many stories to tell, he wanted to start to write them down.  And so they began to write again. In 2007, they published their first book, Bones of the Woods. They followed up with their second book, Mind of a Mad Man in 2009. In 2010, they started publishing their Dime Store Novel series.
John decided to pursue another dream. In 2012, he went back to school to begin his journey toward a bachelor's degree in animation. To Rachelle's surprise, she fell in love with the art of stop motion animation too. She had never considered herself a visual artist. Now she is beginning to understand it. Here is a steampunk-inspired stop motion animation named Clockwork. Rachelle appears in the video as the last dancer. John is the toy maker.

Stop-motion is another way for Rachelle and John to tell their stories. Usually the stories they tell are completely fictional. Sometimes they aren't. This stop motion animation tells a real-life story of a dilemma a friend of theirs faced. Lawrence Kennon was a pilot during World War II. This short tells one of his stories.
John and Rachelle are starting to explore stop-motion animation for the Dime Store Novel world. The first puppet they created was Whiskey Joe.
Many of the stories John and Rachelle create and publish through Dream Dragon Press are about magic. That's because they are both true believers that there is more to this world than what we see. Sometimes magic happens — like it did they day they sat together and shared a bottle of bubbly, like it has many other days throughout the years they've lived together and given birth to one story after another.